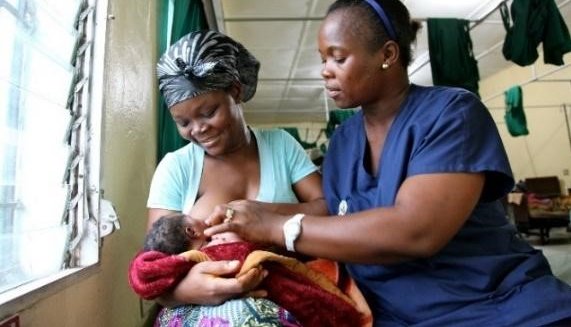 In Libera, stunting rates increase gradually with age and peak at 42 per cent for children aged 36 – 47 months[1]. The highest increase is seen between the age of 6 – 24 months with the prevalence of stunting more than doubling from 17 to 37 percent. The 6-24-month period is critical in the development of a child as mothers introduce other foods to the child (complementary feeding). The Liberia 2018 Comprehensive Food Security and Nutrition Survey indicates that only 11 percent of children aged 6-23 months are fed the minimum acceptable diet. This indicates an urgent need for the implementation of specific interventions to support mothers and care givers to feed children appropriately during this critical period.
The focus of the Phase One of Power of Nutrition and Unicef co-investment in Liberia has been to take nutrition specific interventions to scale. Considerable progress has been made in improving the coverage of these interventions across the country following the successful integration of the services in the public health care system. The nutrition specific interventions address the immediate determinants of foetal and child nutrition and development—adequate food and nutrient intake, feeding, caregiving and parenting practices, and low burden of infectious diseases.
The 2013 Lancet recommends that in addition to nutrition-specific interventions, acceleration of progress in nutrition also requires increases large-scale, nutrition-sensitive development programmes that address key underlying determinants of nutrition—such as poverty, food insecurity, and scarcity of access to adequate care resources. This integrated approach can enhance the effectiveness and scale of nutrition-specific interventions''.
By the Power of Nutrition