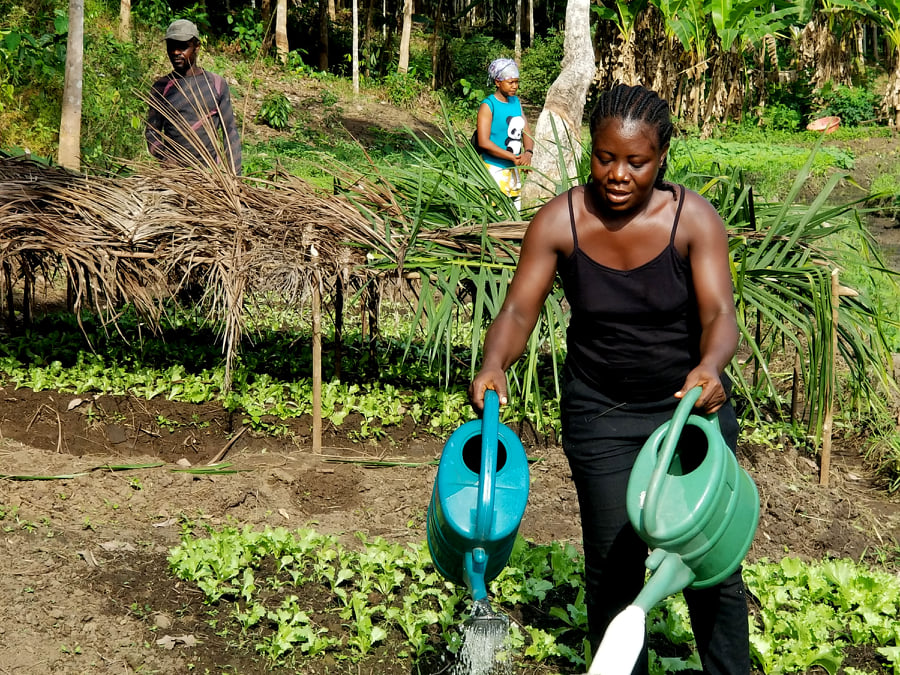 In 2019, GROW's monitoring data showed that only 47% of farmers trained in good agricultural practices (GAP) were female – where about 60% of vegetable farmers in Liberia are female.
The data also pointed to large geographical differences, with the proportion of female farmers trained in Lofa and Montserrado being close to 60% and as low as 39% in Nimba. A follow-up qualitative assessment uncovered a range of reasons for women not attending training, such as not being aware, being "out selling" or looking after children. Pressured for time, many women prioritised short-term income earning requirements over long-term benefits for themselves and their families.
All-female focus group discussions also uncovered a case in Nimba where women assured the GROW researchers they were part of the training, but it later transpired that they had been cooking for the men rather than being trained. Support was subsequently provided to programme partners to increase communication, be more cognisant of the timings of trainings to coincide with meeting days of cooperatives or women's (savings) groups (and avoiding market days), and utilising female trainers and lead farmers. Owed to these adaptations at the partner level, the latest data from 2021 revealed that 57 percent of farmers trained were female.
Transferring these learnings on gender-responsive GAP to the cocoa sector, where women are less visible than in vegetable farming, further resulted in an increase of the proportion of female cocoa farmers trained from 21 to 36 percent between 2018 and 2019.
Similar research also helped GROW to inform a recruitment drive for female Village Coordinators (VCs) selected by cooperatives to train cocoa farmers. Starting with one single female VC in April 2019, a more hands-on role by GROW led to 303 by September 2019, representing 47% of VCs across the participating cooperatives. Data was further used to investigate a supposedly high drop-out by female VCs and uncovered the consequences of social norms and structural barriers to upgrading female roles in agriculture.
By Sabine Garbarino